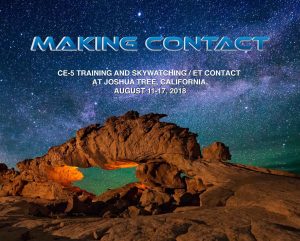 JOSHUA TREE EXPEDITION – August 11-17, 2018 | ET Contact
www.mcbiexpeditions.com
Making Contact CE-5 Training. How to make Contact with ET civilizations using CE-5 protocols, and how to really become an Ambassador to the Universe.
Join Paola, the Making Contact Team, along with 6 other afternoon workshop presenters & observers like you on our next Expedition Aug 11 – 17, 2018, where we plan to "make contact" with ETs up to 7 hours each night under the stars: http://www.mcbiexpeditions.com/joshua… Paola will detail her positive, enlightening, personal experiences coming face to face with ETs. We've been traveling around the world for 3.5 years now to 11 countries / 30 cities & at every CE5 event, or our own, we have always made some kind of ET contact.