Show: Open Minds with Regina Meredith  
Show Guest: Paola Harris
Title: Stories of Otherworldly Contacts
Original Air Date: Tuesday, January 14, 2014
Since the surge of UFOs in the 1950s, the remnants of information we have about otherworldly contacts is the culmination of ever vigilant researchers. They strive to pierce the veil of secrecy and definitively prove that we are not alone. Researcher Paola Harris has collected an immense body of research on UFO phenomena and exposes the growing agenda for managing off-world contacts in this interview with Regina Meredith originally webcast January 14, 2014.
Click to see a preview and to sign-in/sign-up to see the full episode: Paola Harris discusses Stories of Otherworldly Contacts with Regina Meredith!
Guest Bio: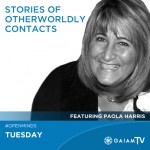 An Italo-American photojournalist and investigative reporter in the field of extraterrestrial related phenomena research, Paola Leopizzi Harris is also a widely published free-lance writer and author of Exopolitics: Stargate to a New Reality. She has studied extraterrestrial related phenomena since 1979 and is on personal terms with many of the leading researchers in the field.
Learn more, Join the Conversation and see Past Episodes at gaiamtv.com.