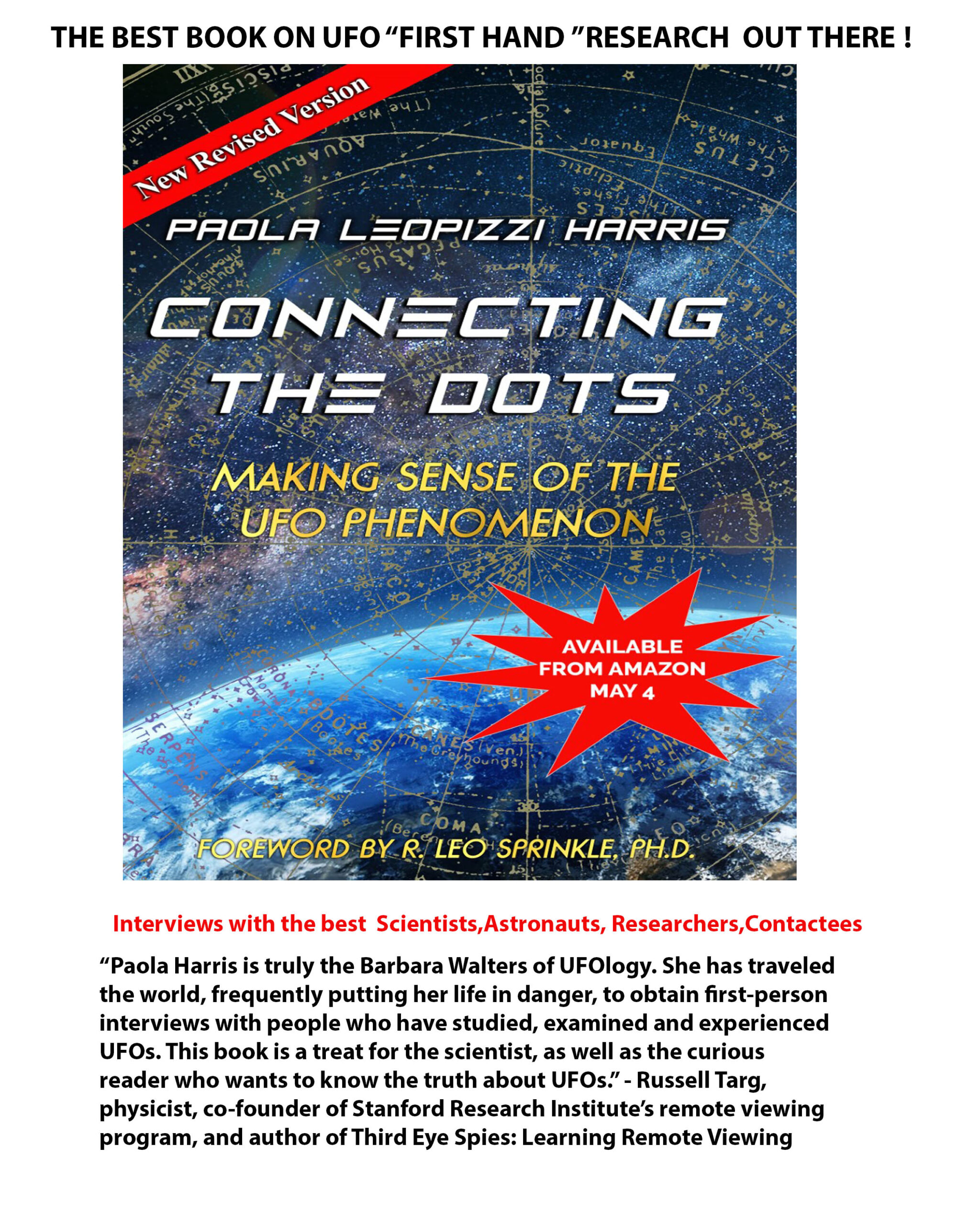 by Paola Leopizzi Harris (Author), R. Leo Sprinkle PhD (Foreword)
See all formats and editions
HERE
"Paola Harris is truly the Barbara Walters of UFOlogy. She has traveled the world, frequently putting her life in danger, to obtain first-person interviews with people who have studied, examined and experienced UFOs. This book is a treat for the scientist, as well as the curious reader who wants to know the truth about UFOs." – Russell Targ, physicist, co-founder of Stanford Research Institute's remote viewing program, and author of Third Eye Spies: Learning Remote Viewing From the Masters
"I have known Paola Harris for almost twenty years. She has been my favorite investigative reporter at the purest level in the UFO field. She is a natural-born journalist, whose instinct and courage follow a case from the beginning to the end of each investigation. Page by page of this book, you will find the integrity and the passion, the dedication and the style that made Paola Harris famous all over the world. I am proud and privileged to be her colleague and friend." – Maurizio Baiata, International Investigative Journalist/UFO Researcher, editor of X-Times magazine (Italy)
"The peoples of China herald the investigative journalism of Paola Harris. Her work is regarded as an important window of disclosure for Asia. Connecting the Dots: Making Sense of the UFO Phenomena promises to expand the Exopolitical horizons even further, exposing the unseen world to mankind." – Neil Gould, Dip. Exopolitics, founder of Exopolitics Hong Kong (China), author of Close Encounters of the ADHD Kind
Paola Harris had never seen a UFO or remembered any strange occurrences in her childhood, however, when she viewed Spielberg's Close Encounters of the Third Kind in 1978, it triggered an emotional response.
Her intellectual curiosity was piqued and a new mission was forged. While teaching science fiction in a Colorado high school, she became even more fascinated with the mystery of the UFO phenomenon. She made a list of ten people she would like to meet and began to notice the serendipitous events that happened to bring these people to her for interviews.
Now, over 35 years later, she has become an internationally renowned journalist who has met many researchers and experiencers of the UFO phenomena. In Connecting the Dots, she includes informative personal interviews with the world's most authoritative searchers for extraterrestrial intelligence.
You will learn about Col. Philip Corso's encounter with ETs, hear from NASA about the objects that observe the space shuttle, and see how the Vatican is preparing us for ET contact. Connecting the Dots demonstrates that everything in the universe is interconnected and that "we are not now, nor have we ever been alone" in the cosmos.