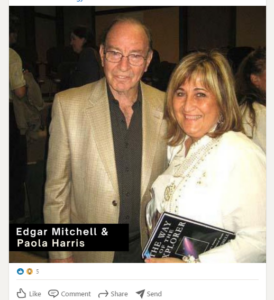 Join us for the 20th Anniversary of the Historic Disclosure Project National Press Club Event!
Webinar with Dr. Steven Greer, Paola Harris and others with astounding new evidence and its implications.
April 25, 2021 – 1pm – 6 pm pacific time
Click HERE to find out more and sign up!
Dr. Greer holds Paola Harris in great esteem for her amazing body of research
about the UFO subject. Her research is impeccable, thorough and detailed.
She has interviewed many of the historic luminaries of the UFO field. (see
above photo of her with Edgar Mitchell.)
Join Dr. Steven Greer and special guests:
Carol Rosin (Spokesperson for Wernher von Braun who invented the rocket)
Constitution Attorney Daniel Sheehan
Paola Harris with an expose on a NEW ET crash retrieval case bigger than Roswell in significance
Chief Cosmonaut Astronaut Trainer for Russia Timofey Egorov
..and more
Proof of man-made UFOs that have staged many hoaxed "alien events" will be presented. Plus, Dr. Greer will share a never-before-seen photo of an unknown humanoid being from 1920s during dissection."