It's not too late to register for this major spring event!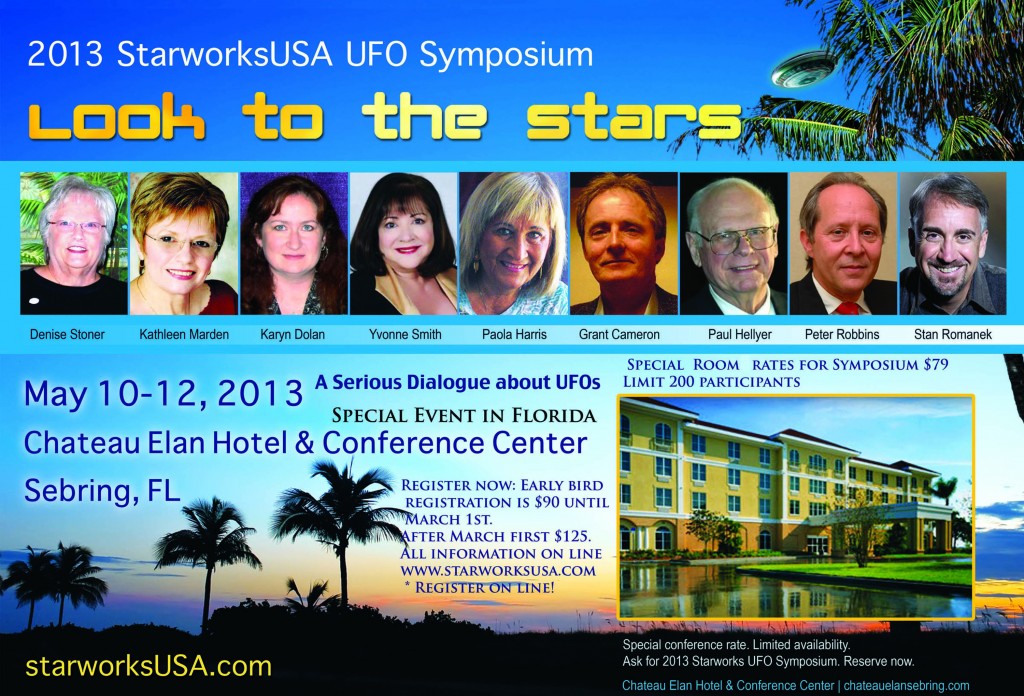 The Florida UFO Symposium brings together leading women and men in UFO research, documentation and related information. The 2013 Florida UFO Symposium will be held at the Chateau Elan Hotel & Conference Center in Sebring, Florida, on May 10-12, 2013. The event will be hosted by Peter Robbins, world-reknown author, artist and UFO researcher.
Early bird registration ends March 31!  Register NOW at StarworksUSA.com. Seating is limited.
Event Highlights
Movie about the Betty & Barney Hill case followed by Q&A with their niece, Kathleen Marden
Special presentation by Hon. Paul Hellyer
"Sapphire Starlight Social" with Symposium presenters, Friday evening, May 10
 Buffet Dinner with the Speakers, Saturday, May 11 (optional; purchase dinner ticket separately) — SOLD OUT
Skywatch, Saturday, May 11
Optional Tour of Kennedy Space Center, Friday, May 10 (purchase tour tickets separately)
Presentations, panels, UFO Marketplace and book signings Saturday, May 11 & Sunday, May 12
For more information: expo@StarworksUSA.com or 303-415-3900